Nancy Boudreau 500 RYT, CHHC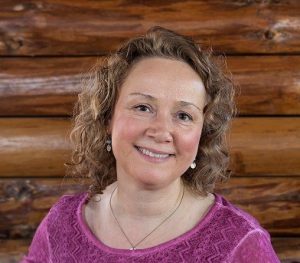 Nancy Boudreau is a yoga instructor, holistic health coach, and health and wellness writer who's been practicing yoga since 1998.  She earned her 200-hour and 300-hour CrossRoads yoga teacher certifications at SoulSpace Yoga & Wellness and her holistic health coach certification from the Institute for Integrative Nutrition.
Nancy believes in yoga's healing powers to strengthen the body, quiet the mind, reconnect with the soul and build community.  With a warm, inviting teaching style, Nancy's yoga classes focus on releasing tension, connecting breath with movement, increasing strength and flexibility. She provides clear, easy-to-follow instructions and modifications so you can make the practice your own.
Off the mat, Nancy enjoys reading and writing about women's health and wellness, walking the local rail trail, crafting, cooking, and spending time with family and friends.

Karen Carollo ERYT500, YACEP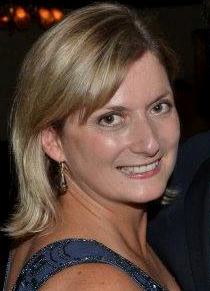 Karen started practicing yoga in 2005 as a way to balance her workouts. She immediately fell in love with the physical practice; however, what she wasn't expecting was the mind, body, and spiritual connection she discovered. As a registered dental hygienist, Karen had always been interested in the human body and physical health; yoga simply added to this interest. Karen believes yoga is the path to optimum physical and spiritual well-being, and views yoga as a gift to mankind. She sees yoga as a gift she has given herself, and now she is striving to help share that gift with others. Karen received her 200-hour Yoga Teacher Training Certificate from CrossRoads located at Soul Space Yoga and Wellness, studying under Crystal Sullivan, Shelley Nyren and Cheryl Moran in 2013. In 2018, she completed her 500 training also at CrossRoads.  Karen is registered with Yoga Alliance as an E-RYT200, RYT 500, YACEP. Karen also enjoys being in nature, walking, gardening, reading, making jewelry and most of all spending time with her husband, daughter and son.

Jessica Chavanick, RYT200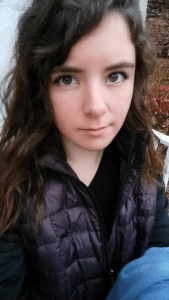 My name is Jessica and I am a 25 year old yoga instructor and nature lover who is obsessed with hiking and camping. Yoga is the practice I love because I see how quickly and powerfully it gets straight to the heart of what so many of us are seeking. We all want to feel less stress, to feel more present and to have more confidence as we move through this world. My hope is that my work helps people to feel their purpose, find depth in their joy and reflect the light of who they are back out into the world. Learning to use the power of my own breath to clear, heal and empower every aspect of my life is why I am called to share these accessible and life changing practices with as many people as possible. I am devoted to raising the vibration of our world one relationship at a time because at the end of the day, all we have is each other.

Nicola DiBenedetto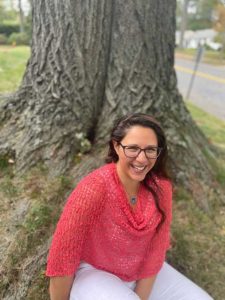 Nicola has been practicing yoga and meditation since she was 24. In 2018, she earned her Kundalini Yoga & SuperHealth: Yogic Science for Addictive Behaviors Certifications. Since then, she has been practicing and teaching locally. She is devoted to her practice and sharing her knowledge and healing qualities. She had personally worked with seasoned teachers in the yoga community including Guru Singh, Shakta, Mukta, and Guru Jagat.
As a Kundalini Yoga Teacher, Nicola shares the authentic teachings and wisdom of yoga from India. Through intention, pranayama, and meditation, students leave her yoga class feeling relaxed and refreshed. Her classes will challenge you both physically and mentally while being varied for all levels. Kundalini Yoga classes include movement, mantra and breathing with demonstration and no hands-on assistance.
Nicola is a full-time K-12 Special Education teacher. She earned her certification for Radiant Child Yoga and Yoga for Children with ADHD and Those Differently Abled in 2019. By implementing her practices in the classroom, she has gained a level of comfort teaching all children breathing and calming techniques.
In her personal practice, Nicola is a guide and facilitator for her own healing and spiritual growth. She believes there is more than one way to process and clear karmic energy. Because of that, she regularly uses yoga, meditation, Reiki, singing bowls, and Shamanic teachings to support her.

Heather DiMarzio, ERYT-200, PTA, ATRIC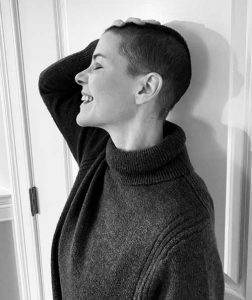 Heather grew up in Albuquerque, New Mexico and lived in several states before settling in Connecticut in 2019 with her husband and two sons. Feeling a calling to teach yoga, she completed her 200-hour yoga instructor training in 2005 in Jacksonville, Florida. She taught yoga, Pilates, and group fitness classes in Florida, Texas, and Virginia. She now works as a Physical Therapist Assistant and is proud to be a two-year cancer survivor. In her spare time, she enjoys hiking, exercise, cheering for the Chicago Bears and Cubs, and playing string bass in the Farmington Valley Symphony Orchestra.

Chrissy Fontana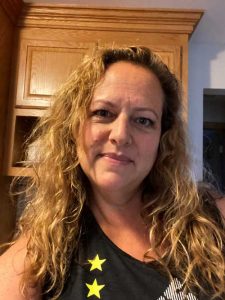 I started taking Zumba classes in 2016 and fell in love with it from the first class.  I became an instructor in 2017 and have been teaching ever since. I love the different rhythms  from all over the world.  Styles like cumbia, merengue, salsa, soca, Indian, African, hip-hop and more. The energy you get from taking just one class is addicting. I love that it's a fitness class that truly anyone can take. Every movement can be modified to any fitness level. Zumba fitness can help with weight loss, tones your entire body, boosts your heart health and helps you de-stress. I have a saying in my classes  – "there is no wrong movement, being here and moving your body is better than sitting on your couch". I am licensed in Zumba, Zumba toning and Gold.
I have lived most of my life in Southington.  I am a Technical Project Mgr at ESPN for 28 years now. If I'm not in Southington then you can find me on Cape Cod. I love the Red Sox, NY Giants, the beach, traveling, my 3 cats and country music concerts.

Jessica Grant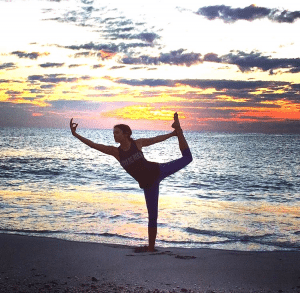 Jessica is an E-RYT 200, IAYT Yoga Therapist, Licensed Psychotherapist, and is certified to practice Ayurvedic Medicine after years of comprehensive study at both the Himalayan Institute and ongoing studies at Kerala Ayurveda in India. She has a passion for learning and utilizes her knowledge in these realms to support and refine her classes, workshops, and educational offerings. Jessica will often weave her love of Psychology, Ayurveda, and Plant Wisdom into her teachings.  She is passionate about trauma recovery, women's health, and developed the sacred science program for women and Teenvana program for teen girls. Jessica has been teaching yoga since 2011, receiving her certification from Samadhi Yoga and approaches her students form a place of love and acceptance.  Jessica serves in a Clinical Faculty role within Yale University's Department of Psychiatry and is the founder of the integrative healing practice, Prima Wellness. When off the mat, you can find her hiking CT's scenic trails with her chihuahua-corgi rescue pooch, Chloe.

Amy Inzero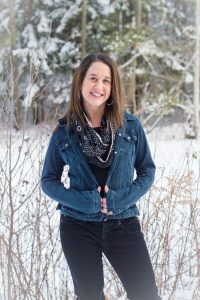 As a graduate of the CrossRoads 200 hour Teacher Training program, Amy has found her passion in sharing her yoga practice with others.  Amy began practicing yoga at Soul Space in 2012 in an effort to quiet her busy mind and strengthen her body.  Following treatment for breast cancer in 2014, Amy had an intense desire to delve more deeply into the yogic philosophy. Teacher training allowed Amy to connect more fully to her true self. She has begun living a healthier lifestyle that incorporates more meditation, breathing and Ayurvedic practices.  Amy enjoys sharing her passion not only with the community members at Soul Space, but with the students and staff she works with as a reading consultant in Newington.  Amy is eager to continue learning all she can about living a healthy and balanced life using holistic practices. Amy also loves spending quality time with her husband and two children, as well as running, reading, baking, and connecting with friends.

Dawn McKnerney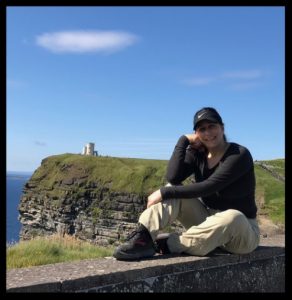 As a devoted runner for over 25 years, avid skier and general fitness enthusiast, Dawn is by no means a stranger to injury. In fact, it was an injury that ultimately led her to the mat. A torn ACL brought her running career and love for all things cardio to a temporary screeching halt. As an alternative exercise, she turned to yoga. It didn't take her long to connect to the oneness and union of yoga as well as its therapeutic healing qualities. The more she practiced, the more she immersed herself deeper into this beautiful and ancient tradition. She liked what was happening. Yoga revealed to Dawn the beauty and strength inherent in her own being. It uncovered the person that existed before the stresses of a corporate career.
Dawn is also a certified fitness instructor through Aerobics Fitness Association of America [AFAA] and Body Training Systems [BTS] who has been teaching since 2007. In June 2012 she completed the class room requirements for her yoga certification in WHY Power through West Hartford Yoga's 200 hour teacher training. This beautiful process was organically nurtured by many wonderful teachers such as Ellen Head, Jill Miller, Judith Orloth, Nikki Poole, Jude Russell, Barbara Ruzansky, and Crystal Sullivan. When not on her mat, Dawn can be found with her other beautiful inspirations, Paul, Brandon and Devin either running, skiing or just tossing the baseball in the back yard. Just as the word yoga itself means to yoke or join, yoga has helped me cultivate a connection between all aspects of my being. How can I not share this joy?

Cheryl J. Moran, JD, ERYT500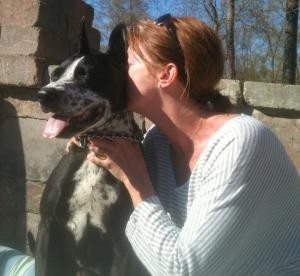 Cheryl began exploring the path of yoga over 25yrs ago in New York City while attending law school. As her interest gravitated from the physical to the spiritual aspects of practice, studying with numerous teachers including Rolf Gates, Seane Corn, Kevin Griffin, Nikki Meyers, Brian Kest, Tommy Rosen & Sharon Salzberg has helped to gently guide her on her journey.
In 2012, Cheryl became certified as an RYT at the 200hr level in Nosara, Costa Rica and then completed her 500hr RYT at Kripalu in Lenox MA. Believing passionately in the power of gratitude in our lives and the limitless benefits of living in the present moment (one breath at a time), Cheryl tries to walk her own spiritual path with grace, humility and an open heart. She strives for balance, flexibility, strength & serenity both on and off of the mat and, desiring always to remain a student, is constantly learning from all of the various teachers that surround her each and every day.
In 2011, Cheryl seized the opportunity to create a doorway where everyone was welcome to enter & explore their own unfolding journey…and find that delicate balance of intention & surrender. Cheryl feels enormously privileged & grateful to be able to offer the SoulSpace studio & her creation Yocovery, along with their guides and healing energies to the community. She is also a proud co-founder of Yoga on the Green in Southington. When not in court, or overseeing her restaurants, Cheryl can be usually be found outside enjoying nature, reading and spending time with her numerous rescue horses, dogs & cats. 🙂

Lynn Nigro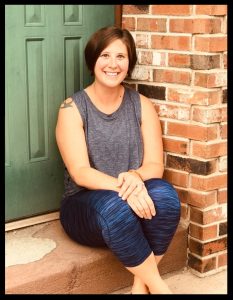 Lynn Nigro started her yoga journey many years ago back in college, and as a mom she found her way back to her practice as a way to alleviate depression and anxiety.  Lynn intended her teacher training at SoulSpace to expand her knowledge of yoga and for reconnection with herself – and to her surprise she rediscovered the voice that she had hidden away for so long. The practices of pranayama, meditation, mantra, and a deeper understanding of asana unfolded into her world and developed a woman passionate about life long learning and guiding others. In her classes, Lynn loves that she gets to give everyone the time to remember who they are, and to remember the love and strength that they hold inside. Lynn is also a Nationally Board Certified Health and Wellness Coach, working specifically in the field of addiction and recovery.  She also loves coaching other moms of children with special needs or anyone looking for a holistic experience to help them get a little closer to their goals!  In her free time, Lynn can usually be found exploring life with her wife, Kristina, and their two children Maggie and Nick.  She loves theatre, the beach, traveling, and trying new things!

Suzanna Poplawski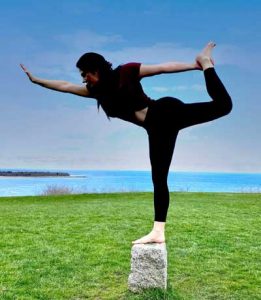 Suzanna is a Yoga Alliance RYT 200hr graduate of the CrossRoads program at SoulSpace and studied under the teachings of Crystal Sullivan, Shelley Nyren and Cheryl Moran.
Suzanna's personal yoga practice began in 2010 after noticing the positive effects of yoga on clients while working as a counselor at a psychiatric residential facility. She began a personal yoga practice and over many years noticed the transformation of her own mind and spirit. While her personal practice is currently rooted in the heated Bikram sequence, she personally enjoys the creativity of structuring and teaching gentle to intermediate flows and guided meditations. She is a firm believer in the power of the mind-body-spirit connection nurtured by yoga practice and is passionate about the philosophy that yoga is for ANY-body at ANY-level. Her goal is to help beginners find and maintain a practice that meets their needs.
Off the mat, Suzanna is licensed to practice medicine as a board certified Physician Assistant and utilizes her expert knowledge of anatomy in caring for her patients in the Interventional Radiology subspecialty. She will soon be licensed in massage therapy and is excited to share her healing touch with others. She aims to live life by blending her passions to help others achieve or maintain well-being through yoga, therapeutic massage and medicine.
In her spare time you can find Suzanna outdoors enjoying nature, hiking, camping, skiing, paddleboarding, traveling, reading, tending and talking to her garden/houseplants, trying new dishes at restaurants, and cuddling the rescue pitbull, Piggy.

Phyllis Powers 200 RYT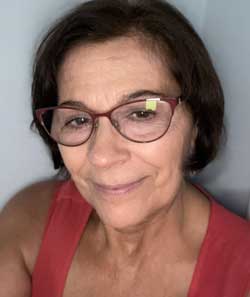 Phyllis Powers is a Yoga Alliance RYT 200-hour graduate of Yoga Farm Ithaca. She earned her Radiant Warrior Yoga Teacher Certification under the teachings of Christopher Grant, Daniela Hess Grant and Jeannie O'Neill.
Phyllis has been practicing yoga since 2011 on Long Island and NYC. The many different classes and styles were inspiring for wellness, peace of mind and strength. My mission as a yoga teacher is to guide my students through a journey of achieving peace, strength and balance in a safe and supportive environment through connecting breath, movement and intention. I believe that yoga is for every Body and offer a little guidance and inspiration on your yoga journey.
Off the Mat: Cycling on the rail trails, dancing and spending time with my family and friends. Astrology Sky Reader.
Additional Certification in Progress: Trauma Informed Yoga Nidra, expected completion September 2022.

Traci Schneider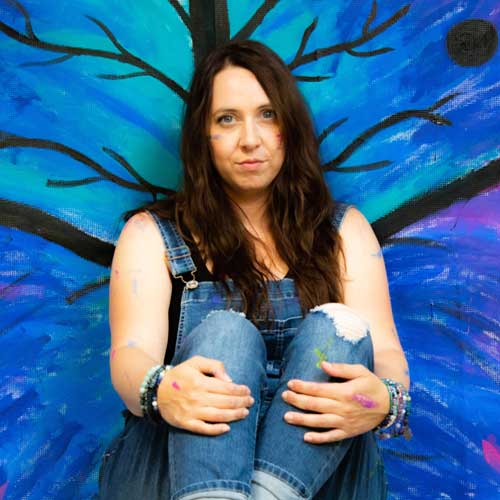 I've had a passion for creativity for my entire life but have only recently began understanding how to use this energy to grow and heal.
I started my journey to becoming an art therapist three years ago taking art classes at Naugatuck Valley and Tunxis. I am currently in my second year of the Clinical Counseling and Art Therapy graduate program at Albertus Magnus. I firmly believe that my purpose on this earth is to teach others how to harness their creative energy not only to make nice things but to gain self- awareness and peace. My hope is to empower people to use art to speak their truth and to reclaim a part of themselves that the world has buried.
My first love was acrylic paint but I have also come to love watercolor and clay. One of my absolute favorite things to do is to experiment with mediums that I have never tried before.
I am a nature lover and could spend hours staring at the ocean.
My favorite colors are purple and blue.
I am a mom of two amazing children that make my life fuller and more beautiful than I could have ever
imagined. I also have two fur babies who add endless laughter and love to our family.
Amber Upson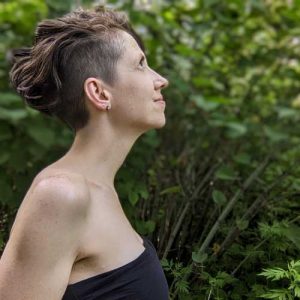 Amber Upson (RYT-200) is a neurodivergent altruist who credits yoga, therapy, and a strong support system with her personal renaissance. She began teaching yoga in 2020 and specializes in Vinyasa, Chair Yoga, and Kids' Yoga, though she also offers Restorative Yoga, and Yoga Nidra. In early 2022, Amber began teaching students privately out of her home.
Through yoga practice, Amber's hope is that she can help her students to gain deeper self-awareness, leading to fuller, more authentic lives. Though this sounds heavy, she does not take herself too seriously; this comes through in her classes, where she fully embraces the phrases "laughter is the best medicine" and "perfectly imperfect".
Amber will read anything, including the backs of cereal boxes and shampoo bottles if they are in her line of sight, though she prefers Sci-Fi/Fantasy and Horror fiction to marketing copy. She enjoys art, design, and creativity in all of their forms, and flexes her own creative muscles whenever possible. She is borderline masterful at gift wrapping and can probably beat you at Mario Kart (….on the Nintendo 64). Amber lives in Naugatuck with her partner and their two beloved fur demons (cats, for those who don't have them), the stoic Kang and the spazzy Kodos.

Bethany Wallace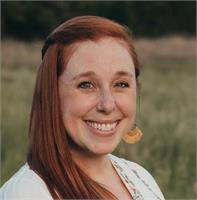 Bethany was first introduced to yoga in 2004 while studying dance at the University of Colorado. She found that yoga helped ease the aches & pains of her dancer body and provided a quiet space in her hectic schedule. After only a few classes, she knew she had to share her love of yoga through teaching. Soon after, she began studying under the instruction of Barbara Ruzansky at West Hartford Yoga, where she completed her 200 hour yoga teacher certification in 2010. In the years since, she has become a certified Prenatal Yoga teacher, Restorative Yoga teacher and in 2017 graduated from the Connecticut Center for Massage Therapy to become a licensed Massage Therapist. For 10 years Bethany was the owner/operator of Bloom Yoga Fitness Studios alongside her mother & sister. during her time at Bloom, she developed several workshops & training programs including a 200 hour Yoga Teacher Training and a Restorative Yoga Teacher Training. Bethany is best known for her knowledge & passion for yoga and anatomy through her trainings and classes. She LOVES teaching yoga, helping clients find healing through massage therapy, and working with clients one on one who are in interested in deepening their practice or are working through specific health issues.

Molly Weyers, RPYT, RYT, EFT Tapping Practitioner, Reiki Master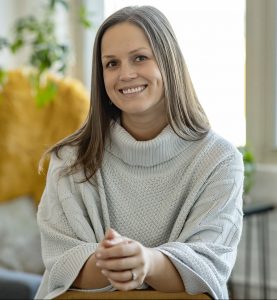 I started my yoga journey almost 10 years ago and in that time I have grown so much. To have the opportunity to share my practice with you, during this most special time in life, is an honor and a privilege. In this community, I strive to help you feel as comfortable as you can during pregnancy and help you learn to empower yourself on and off the mat. When you return during your postpartum journey, it is my goal to help build strength in a safe way and help you fall back in love with yourself. My practices always include breathwork, strengthening, stretching, and positive affirmations.