Directed by Crystal Sullivan PT, ERYT500, C-IAYT and Shelley Nyren OTR/L, ERYT500, C-IAYT.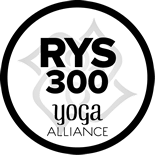 The aim of CrossRoads Online 300 (500) Hour Yoga Teacher Training is to provide a nurturing environment for 200 hour RYT's to deepen their understanding, personal practice and/or ability to teach yoga. In addition to the exploration of yoga's deeper practices and scientific basis, CrossRoads 300 Online YTT enrollees will delve into a therapeutically-oriented segment that will enable enrollees to apply the tools of yoga and Ayurveda to create individual yoga practices for themselves, each other and community volunteers who seek restoration of balance (body, mind and/or spirit). The program is open to graduates from any 200 hour Yoga Alliance registered training. Please see the syllabus below for all program components.  Our online programs have been accepted by Yoga Alliance and, upon completion, all enrollees will be recognized as RYT500 through this credentialing body. 
UPCOMING CROSSROADS 300YTT ONLINE PROGRAM (JUNE-DEC)
REQUIREMENTS: Attend weekly (2-hour) meetings on Zoom* with Crystal & Shelley (June-Dec), complete all pre-recorded virtual components (5-7 self-paced hours weekly), record/submit a two-hour advanced theory workshop, fulfill all reading/journaling assignments, lead two people (your choice) through the Individualized Yoga Practice process of intake/instruction & follow-up and lead one group sadhana (practice) with your peers. There will be unlimited access to pre-recorded material post-completion of CrossRoads 300YTT Online program. Material will begin being released Mid-May.
*Zoom meetings will be on Tuesdays from 6:30-8:30pm (EST) beginning June 8th and ending December 28th. To optimize a sense of personal connection with peers and teachers, space is limited.
TUITION: Graduates of any past CrossRoads 200YTT programs will receive a 5% discount.
PAID IN FULL
$3200–(total w/6.35% CT sales tax, $3403.20); 
$500 non-refundable deposit, $2903.20 due by April 1st.
PAYMENT PLAN:
$3400 (total w/6.35% CT sales tax, $3615.90)
$500 non-refundable deposit followed by 6 monthly payments of $520.
Cancellations prior to June 1st will result in loss of $500 deposit. Without exception, there will be no refunds or credits available once matriculation begins. Please understand our cancellation policy is firm. 
A completed application and non-refundable deposit of $500 will secure your spot. For questions, please reach out to Crystal Sullivan, 860-628-1302 or email casullivan108@gmail.com. Application available on request.
Syllabus below.
CrossRoads 300 HR YTT Curriculum
Techniques, Training, Practice & Teaching Methodology
Alignment, Adjustment/Manual/Energetic Assist
Advanced Sequencing/Theory and Practice
Arm Balance Postures
Yoga Nidra
Mantra Theory and Practice
Ayurvedic Pranayama
Various Meditation Practices
Restoring Balance/ Individual Yoga Practice Development thru Pranayama, Asana, Mantra, Mudra, Meditation
Special considerations for: Osteoporosis, UE/LE/Spinal pathology, PTSD/Trauma Recovery & Addiction Recovery
An Introduction to Kundalini Philosophy/Kriya/Meditation
Prenatal Yoga
Anatomy and Physiology
Anatomy of osteoporosis/menopause, pregnancy,
UE/LE/Low Back/SI dysfunction, PTSD, Addiction
Advanced anatomy of the nervous and endocrine systems
Energetic Anatomy
Pranavayus
Yoga Philosophy, Lifestyle, Ethics
Practical Application of
Yoga Sutras, Bhagavad Gita, Hindu and Buddhist Tenets
Healthy Student/Teacher Boundaries
Ayurvedic Principles: Beyond the Basics
Sadhana Development, Instruction and Maintenance Strategies
Hindu Gods/Goddesses
Exploring forgiveness, fear and obstacles to growth.
The challenges of teaching yoga; journaling assignments
Practicum
Deliver, attend and constructively critique student-led advanced workshops.
CrossRoads Yoga Clinic
(includes intake, Individualized Plan Instruction-design/instruction and follow-up with
your chosen clients).
Required Readings (Subject to change)
The Yoga Sutras of Patanjali, your preferred version
The Bhagavad Gita, your preferred version (optional)
Healing Mantras (Thomas Ashley-Farrand)
Prana and Pranayama, Swami Niranjananda Saraswati
The Key Muscles of Hatha Yoga, Vol 1, Scientific Keys by Ray Long (strongly recommended) OR any book whose emphasis is musculo-skeletal anatomy for yoga teachers.
Yoga Body, Judith Hanson Lasater (optional)