Directed by Crystal Sullivan PT, ERYT500, C-IAYT and Shelley Nyren OTR/L, ERYT500, C-IAYT.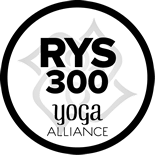 The aim of CrossRoads 300 (500) Hour Yoga Teacher Training is to provide a nurturing environment for 200 hour RYT's to deepen their understanding, personal practice and/or ability to teach yoga. In addition to the exploration of yoga's deeper practices, CrossRoads 300 YTT enrollees will delve into a therapeutically oriented segment that will enable enrollees to apply the tools of yoga and Ayurveda to create individual yoga practices for themselves, each other and community volunteers who seek restoration of balance (body, mind and/or spirit). The program is open to graduates from any 200 hour Yoga Alliance registered training.
Upon completion, graduates achieve RYT500 status.
TUITION:
CrossRoads 200YTT Grads
$3200 paid in full, $3500 payment plan
Non-CrossRoads 200YTT Grads
$3500 paid in full, $3900 payment plan
Without exception, there will be no refunds or credits available once matriculation begins. Please understand our cancellation policy is firm. Tuition fees are subject to 1.0635% CT sales tax. A completed application and non-refundable deposit of $500 will secure your spot. This amount will be applied/deducted toward the full tuition cost.
WEEKEND PROGRAM: In session!
Directed by Crystal Sullivan PT, E-RYT 500, C-IAYT & Shelley Nyren OTR/L, ERYT500, C-IAYT
In addition to reading requirements, enrollees will also create and deliver a two-hour advanced lecture/workshop to their peers. Ideas will be discussed and may include up to one hour of asana.
2020 dates-January 4/5, February 1/2, March 7/8, April 4/5, May 2/3, June 6/7, July 11/12, August 1/2, September 5/6, October 3/4, November 7/8, December 5/6
2021 dates-January 2/3, February 6/7, March 6/7, April 10/11, May 1/2.
CR TT 300 Application and Waiver 
CrossRoads 300 HR YTT Curriculum
Techniques, Training, Practice & Teaching Methodology
Alignment, Adjustment/Manual/Energetic Assist
Advanced Sequencing/Theory and Practice
Arm Balance Postures
Yoga Nidra
Mantra Theory and Practice
Ayurvedic Pranayama
Various Meditation Practices
Restoring Balance/ Individual Yoga Practice Development thru Pranayama, Asana, Mantra, Mudra, Meditation
Special considerations for: Osteoporosis, UE/LE/Spinal pathology, PTSD/Trauma Recovery & Addiction Recovery
An Introduction to Kundalini Philosophy/Kriya/Meditation
Prenatal Yoga
Anatomy and Physiology
Anatomy of osteoporosis/menopause, pregnancy,
UE/LE/Low Back/SI dysfunction, PTSD, Addiction
Advanced anatomy of the nervous and endocrine systems
Energetic Anatomy
Pranavayus
Yoga Philosophy, Lifestyle, Ethics
Practical Application of
Yoga Sutras, Bhagavad Gita, Hindu and Buddhist Tenets
Healthy Student/Teacher Boundaries
Ayurvedic Principles: Beyond the Basics
Sadhana Development, Instruction and Maintenance Strategies
Hindu Gods/Goddesses
Yoga and Aromatherapy
Exploring forgiveness, fear and obstacles to growth.
The challenges of teaching yoga
Practicum
Deliver, attend and constructively critique student-led advanced workshops.
CrossRoads Yoga Clinic
(includes intake, sadhana design/instruction and follow-up with
community members).
Required Readings (Subject to change)
The Yoga Sutras of Patanjali, your preferred version
Bhagavad Gita, your preferred version
Buddha's Brain, by Rick Hanson and Richard Mendius
Healing Mantras by Thomas Ashley-Farrand
Prana and Pranayama, Swami Niranjananda Saraswati
Yoga Body, Judith Hanson Lasater
*CrossRoads 200YTT meets Wednesdays and the third weekend of every month. There is no over-lap in programs.